Watch the video: Google My Business for Doctors: Rank in Top 3 on local search results
If you're a dentist, eye surgeon, dermatologist, plastic surgeon, or any other doctor with a private practice, and you are NOT listed on Google. You pretty much much do not exist.
Google is the world's biggest directory with listings for every business and every place on Earth.
As your patients search for doctors, Google's Local Search Algorithm will match the 3 top-rated listings in that location and show them at the very top of the search results. Your listing will show the name, phone number, and address, the hours you are open, and a map with directions to your clinic. It will also show the total number of Google reviews and your average Google rating.
In this post, I will talk about how easy it is to claim your Google listing (if you still don't have one) and how to improve your ranking so you can show up in the first three results in local search.
Featured Resource: Reviews Management Tool
How To Claim Your Listing on Google
If you already have a listing for your practice you can skip this section and move on to the next.
It is very easy for those who do not have a Google My Business listing to create one and it is free.
Head on to this website https://www.google.com/business/ and sign in with your Google account.
Step 1: Find your practice on Google
The first step is to find your practice on Google. Use the business name of your practice in the search. You'll be surprised to see your practice already listed on Google. And this could be because the marketing company that you hired a few years ago created one for you.
I have also seen marketing companies creating duplicate listings for the same practice just because they were too lazy to get access to the existing ones or whatever the reason. So it's important to check what is already listed on Google for your practice and ensure you ONLY have ONE listing representing your practice.
Of course, there are scenarios where you may want to set up more than one listing for your practice. I'll cover more about this later in the post.
If you already see your practice listed (and you don't know about it) you can select it and claim ownership. For new practices that do not have a listing, you can go ahead and create one for your practice.
Step 2: Verify Ownership
Once you have created a new listing or claimed ownership of an existing one, Google will need to verify that you are the rightful owner. There are many ways to verify ownership. The most common is Google will send you a postcard in the mail to your business address with a verification code. Once you receive the code you can come back and complete the verification.
What's included in the Google My Business listing?
The Google My Business (GMB) listing is more than just a Name, Phone number, and Address.
You will be able to set the category of your business which is the specialty of your practice for example Dentist, Endodontist, Orthodontist, Pediatric Dentist, Cosmetic Dentist, and so on. You will be able to set your website link, hours you are open, services and products you offer, photos of your clinic, opening date i.e. date when you first opened at this location, a short description of your practice, and many more.
Everything you set on your Google listing will help the Google Local Search algorithm to match your listing with the terms your patients are searching on Google. This increases your chances to appear in the top search results and be in front of your patients.
Next up, let's see how to correctly set up your Google My Business Listing and go over some best practices.
How to correctly set up Google My Business listing for your practice
1. Name of your practice
This is the business name of your practice. Make sure to use the name exactly as it appears in the real world for example on your signage, on your business cards and stationery, and anywhere else. This is the name your patients see when they visit your clinic.
Keep the name clean and it's okay to drop the legal suffixes like PC, LLC, INC, or Pvt. Ltd on your Google listing. Do not add the doctor's name, degrees, or location to your business name on your Google listing. If you're creating a Google listing for an individual practitioner working with a group practice or hospital, stay tuned for the Multiple listing section in the post where I'll cover this in detail.
2. Category
Use a category that describes your practice in the best way possible. Google allows you to set primary as well as additional categories for your practice. So choose these categories in such a way that it describes your overall core practice from the provided list.
Let's say you are a specialist, for example, an Endodontist, and have a clinic in New Jersey. It is probably better for you to choose Endodontist as the category on your listing instead of Dentist or Dental Clinic. This will set you apart from the competition of "General Dentist" in your market and will increase your visibility and may positively affect your Google ranking.
3. Address
It is very important to set the precise and accurate address of your clinic's location. If your address doesn't have a street number or the system can't find it, you can pin your practice's location directly on the map. Google will use this address to show a map with directions and also use it to calculate how far your clinic is from the location where your patients are searching.
Bonus Tip:
We also recommend adding a Google Map widget with Directions to your clinic on your website's Contact Us page. This is a sure-shot way to associate your website and your Google listing and you know every little bit will help you rank on Google. If you want to know more about the Top 5 pages of your practice website click here.
4. Service Areas
Include the areas where you provide your services. Google allows you to select countries, regions or states, counties, cities, and even zip codes. If you are a medical office you'll most likely stick to counties, cities, or zip codes but this really depends on your specialty and how far your patients are willing to travel.
Typically, people will go to a dentist closer to their home or workplace. However, people may be willing to travel even more and cross-states to visit a plastic surgeon. So choose your service areas wisely and be realistic.
5. Open Hours
Set the hours your office is open and keep it up-to-date with any holiday closings or special events. Nothing can be more frustrating for your patients to travel all the way and find you're closed, that is if you take walk-ins.
Google uses the open hours from your listing to show your patients if you're open or closed and when you will open next. This is helpful so your patients will know when to call you and set up an appointment.
6. Phone number
When you add a phone number to your listing, Google will display a Call button on your listing so your prospective patients can call your office. Mention a phone number that connects directly to the front desk of your office. It's always a good practice to ensure that the phone number that you provide is also present on your website so that Google can easily recognize your practice and display it in the search results.
7. Website
If you provide a link to your website, Google will display a Website button on your listing so your patients can click on it and visit your website.
Google will track the number of calls and the number of website visits you get from your listing and this can help you measure and optimize how your patients engage with you online on your Google My Business listing.
So far we've seen how to set up the basic information. Now, let's see what other information you should provide on your Google listing.
8. Appointment Links
If you support online booking of appointments this is a good place to set a direct link to your appointments page. So your patients can click on this link and set up an appointment with you.
9. Products
You can also showcase your products on your GMB profile. For example, if you are a dentist and provide customized mouthguards or nightguards, then you can add these as products to your GMB profile. These products can be added based on different categories of your practice.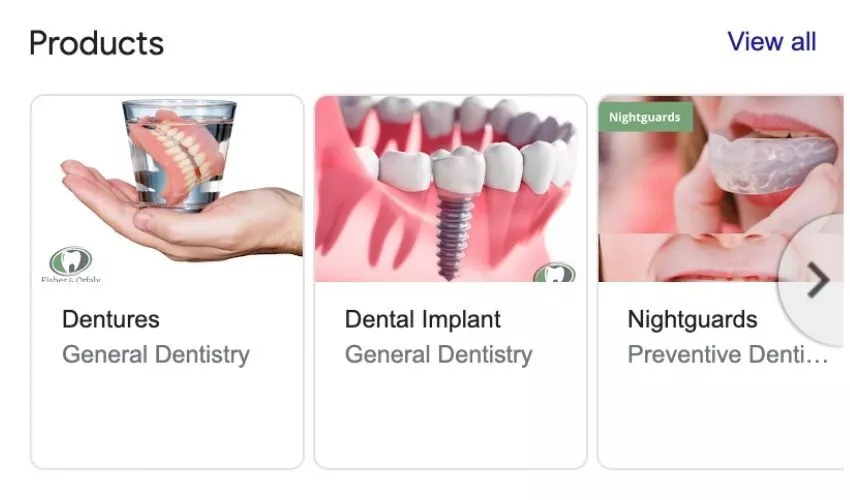 Example of products showcased on a dentist's GMB
10. Services
Taking the example of the dentist again, you can mention your services based on different categories like for the primary category – Dentist, you can have services like teeth whitening, dental crowns and bridges, tooth canal, and so on. Similarly, you can mention your services for other categories like cosmetic or emergency dental services.
11. Business Attributes
Highlight other attributes of your practice like Accessibilities, Amenities, and Health & Safety.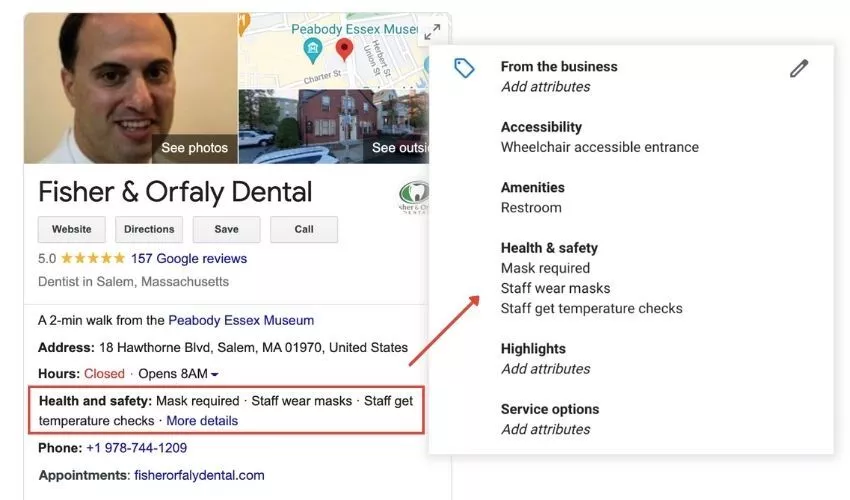 Adding Business Attributes in your Google My Business Listing
12. Brief Description of your practice
Describe your overall practice here. While writing the description include the important services you offer in this section.
13. Posts
Posts are a great way to connect with existing and prospective patients through your GMB Profile on Google Search and Maps. Make use of different types of posts available such as Covid-19 Update, Offers, What's New, Events, or Products.
14. Photos
Uploading photos will help you to attract and inform your prospective patients. Add photos of your logo and exterior view of your clinic so patients can recognize your practice when they visit. Also, add photos that highlight features of your practice.
15. Messages
This feature enables patients to send you messages in real-time from your GMB profile. Thus, helping you to connect with your patients and answer their questions whenever possible or ask them to book an appointment for a consultation.
Multiple Google My Business Listings
Most practices will have only one listing on Google. However, there are scenarios where your practice can have more than one listing.
If your practice has more than one clinic location, every location should have a separate Google My Business listing. Follow the guidelines we talked about in the previous section to set up all your listings correctly and make sure to keep all of them up-to-date.
Another scenario where there can be multiple listings is when multiple individual providers are working in a group practice or a hospital. In this case, the group practice will be the main listing on Google with the business name of the practice. Additionally, a separate listing can be created on Google for every individual provider or doctor.
Here are some of the best practices when creating Individual practitioners listings:
Include the doctor's full name and the medical degree in the Business Name of the listing,
Make sure the address is the same as the group practice and include the name of the group practice or hospital in the address,
Set the website link to the individual doctor's profile page ((if there's one) from the group practice website
Only include the services and products provided by the doctor if different from the overall services and products of the practice.
Generally speaking, customize the individual listing to the doctor but at the same time associate it with the main group practice listing
In larger group practices or hospitals with many doctors and providers, individual listings help the doctors in creating their personal brand, visibility in searches, and attracting more patient reviews.
How to improve your rankings in local search results
Accurate and up-to-date information about your practice on Google My Business listing is the first step towards having a chance to be matched by Google's Local Search Algorithm and to be shown in the local search results.
According to Google, 3 factors impact your local search rankings:
Distance
This is a no-brainer. Since Google is trying to pull business listings as close as possible to the location where your patients are searching, the distance of your clinic from that location is the number one factor. Marking your service areas realistically and marking your exact location is about the best you can do to rank higher on this factor.
Relevance
Google's algorithm is constantly trying to figure out how relevant your practice is to the terms your patients are searching for. The primary Business Category (and subcategories) you select, the services and products you add, the short description of your practice, and other business attributes you configure on your Google listing will impact your relevancy score.
But Google goes beyond that and it will also factor in the content on your website and how your practice website ranks on organic results and the keywords your website is indexing for to determine relevance. Sometimes you'll notice Google will add a line below a listing saying "The website mentions xxx". This is because there's no doubt Google uses the content on your website to determine how relevant your practice is to the terms your patients are searching for.
Prominence
Prominence refers to how well known your practice is both online and offline. Google will base your prominence score on any information it has from across the web like links, media articles, directory listings, and your practice website. The better your website ranks overall on search the better will be your prominence online. Read more on how to rank your practice website #1 on Google.
The most important (and probably the only) factor that Google uses to find out your offline prominence is by looking at your Google reviews. Patients visit you for services (which is an offline activity) and may leave you a Google review. Your Google reviews tell Google how your patients are rating your practice when they visit your office for services. The total number of reviews and more positive reviews will get you a higher prominence score.
Google Reviews
Reviews on Google from your patients are the digital version of "word of mouth". When a patient visits your office and is happy and satisfied with your services and leaves a positive review for your practice, this improves your prominence score and fosters trust in your practice for other new patients.
Your patients will Google you and check your reviews before they even call you up. They want to know what other people have to say about your practice. Reviews play a major role in a patient's decision-making process.
As a medical practice, you should always acknowledge all your reviews. If not all, definitely acknowledge and respond to the bad ones (if any). When you respond to reviews, you are not only informing your prospective patients about your practice or services, you are also showing them that you value their inputs. And this will help in building trust and get more reviews in the future.
The Google platform is always evolving and Google is trying very hard to get more qualitative feedback from users on Google reviews. Google has rolled out a new update on its reviews platform where you might see that it presents the user with options to rate the business. The options change based on the review rating. For example, for ratings above 3, Google will prompt the user with "What you liked about this business?" and for ratings below 3, it might ask "What you did not like about this business".
We haven't seen this new update rolled out for all business categories yet, such as doctors. Keep an eye on it because we think these changes are coming for every business type soon.
You know Google reviews are so critical for ranking and overall for the success of your practice and therefore staying on top of your reviews is just as important.
I'd like to share with you a tool we have built that'll help you manage Google reviews for your practice.
Proudly show your 5 STAR Google reviews on your practice website. The tool comes with a widget that can be easily installed on your website in minutes. The widget automatically pulls all your 5-star reviews from all your locations and displays them as a feed on your testimonials page or as a carousel on your homepage.
Your website visitors will also be able to click on a button and write a new review for your practice.
A dashboard on the tool will show all your reviews together in one place either for one listing or all your Google listings.
You'll receive alerts when new reviews are posted or a review needs your attention so you can respond immediately. The dashboard will also show any Google Messages you receive for any of your listings so you can stay on top of them as well.
The smart reply feature from the tool will auto-suggest responses to reviews so you can save your valuable time.
You can get more reviews by requesting your happy patients to write you a review. With just a click of a button, a link will be sent to them by email or SMS.
Once your patients write a review the tool will automatically match the reviews with the contacts in your Patient CRM so you can keep track of who wrote you a review and who did not so you could send them reminders automatically.
The first 50 people to sign up for a demo will receive a **3-month free use** of the product.
To summarize, we discussed how to correctly set up Google My Business Listings for your practice to improve your Google rankings on local search, and how to manage Google reviews for your practice to build patient trust and grow your practice.
Want to Rank Higher on Google?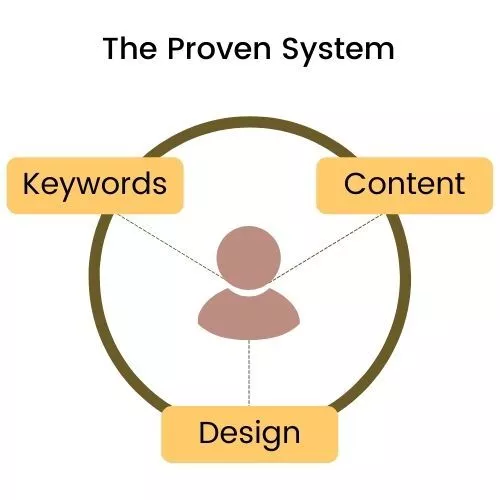 We ranked a dental practice on Google (in just 3 months) using our proven system. If you'd like to turn around your practice and rank it on the top search results on Google, get in touch.
Book A Call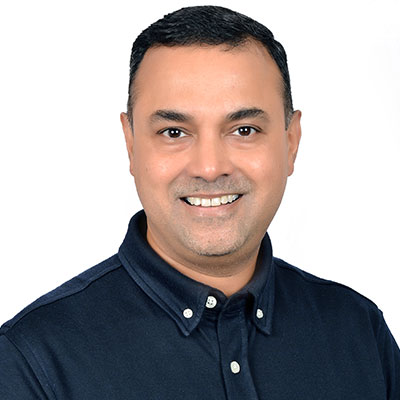 About Author
Harshal Limaye
CEO & Founder, Mktg.Doctor
LinkedIn – @ Harshal Limaye
Harshal Limaye runs Mktg.Doctor, an all-in-one digital marketing platform that leverages 360° marketing strategies to acquire new patients, re-engage existing patients, improve patient's experience, streamline your front desk, and justify your marketing spend. He is a Certified Aesthetic Consultant from The Aesthetic Academy USA.