Watch the video: Top 5 pages for a doctor's website
Your website is the single most vital marketing asset for your practice. Let's dive into the most important and effective elements of a medical website: the top 5 pages.
1. About page
You know your practice inside out, but your prospective patients do not. The About page should talk about your practice, your credentials, your experience, and why you are different. Share the reasons why a patient should visit your practice.
The About page should answer 4 W's:
Who owns this medical practice?
What's the history of your medical practice?
Who can benefit from your services?
What makes your medical practice or services unique?
Storytelling is pivotal for this page. You want your readers to relate to your brand values, join your journey, and share the message with their family members and friends.
If they have taken the time to look you up and check out your website, they want to find a page that tells them about your practice. Readers are evaluating the website through the About page to decide if they're in the right place.
The attention span of humans is reduced to 8 seconds now. In such times, you must follow an inverted pyramid style for writing content for your practice website. Summary of the most important content first, then the facts from interesting to least interesting and the last is other information.
The second most important point is creating a visual appearance depending on the message you want to convey to your patients. Make good use of whitespace. Use the actual pictures of your clinic or hospital to give a glimpse of the hospital or clinic to the potential patients.
Colors often define psychological age. With the use of particular colors, you can make your website, your practice's personality. In some cases, you may want to stick to your logo colors for the entire website.
2. People or Doctor's page
The second top and important page for your website is the Doctor's page. Doctor's page or About The Doctors is of utmost importance as it plays a major role in building trust between the doctor and his patient. The doctor's page helps the patients see and become familiar with the doctor even before visiting the clinic or hospital. As we all know that patients today are showing consumer-like behavior, it's no surprise that they will want to see the best when it comes to healthcare.
So, you need to remember that your patients will also be interested in knowing your expertise, background, and achievements along with seeing your face. To attract new patients, build trust, improve their experience on the website, and increase SEO ranking opportunities, do provide details like educational background, your location, certifications, publications, as well as awards and recognition.
Even though traditionally, healthcare providers mostly want to let their work speak for itself and not do much brand marketing; but today patients search for doctor's websites, bio, ratings, and so on. Providing necessary information along with photos goes a long way to build trust with patients and attract new patients.
3. Services page
This is the core business you do and you must highlight what you do for your patients. Have a separate page dedicated to each service or treatment you provide. It is your responsibility to provide all the facts about the service so your patients can make an informed decision on whether or not you are the right choice for them.
Give them a top-level view of what you do and the unique value that you offer. This opens the door for further conversation and establishes the context through which they'll interpret the rest of the information that they read. In fact, it may be all they read if they're just beginning to check you out. Make sure to use the main target keyword (probably the one that appears in the page title) to optimize the page for search engines.
When a new visitor arrives on your services page, they'll probably start by reading the headings, list titles, and other formatting to see if they're interested. And if they are, they'll dig in a little deeper, either by starting at the top of the page or by skipping to the section that most interests them.
The next is keeping individual formats because there's no single structure that works for every service page. You may be able to elaborate on a few core services under their own section headings, or if you need to list many services or variations, you can itemize them in a list. Just take a few minutes to think about what format is a natural fit for your services.
Going further is Call-to-Action. Make sure to use a call-to-action (CTA) to make it as easy as possible for your potential patients to take action, and use a short form to gather essential information. Once you have their contact information (and permission), you can follow up in an appropriate way. You'll get more business by building a relationship over time than you could ever with one single page, no matter how well-written. Keep your main keywords and use them in your section headings or the titles of the page which will help your page rank higher.
Each service page is different. And that requires different styles of writing or different formats of writing. Read more on how to build effective service pages. Read more on how to build effective service pages.
4. Locations or Contact us page
Of all these top 5 web pages, the Contact Us page implies the most detailed level of intent on the part of the user. You need to publicize what locations you have in your clinic.
If you have multiple clinics, again, remember, depending on the services that you're offering and depending on the services that people are willing to take at this time, the location becomes pretty critical. They need to think about how much they need to travel. Highlight the location of your clinic.
Also, put the information they're looking for above the fold – your email address, phone number, contact form, map, mailing address, and so on. Use CTAs that allow the user to contact you easily. Make the CTA really obvious, and engage them by gratifying their intent instantly, using a CTA copy like "Chat now" or "Email now".
You need to ensure that you have accurate and consistent NAP information (name, address, and phone number) listed on your Google My Business, Facebook, and other directories, apart from your website.
Google's local algorithm studies your NAP information as a sign of relevancy and proof that you're a verifiable local practice and actually located at the address listed in your Google My Business profile.
5. Testimonials page
The About page, Doctor's page, Services, and Contact page that provide information about you and your practice are important. However, including reviews, star ratings, testimonials, and patient stories on the website is believed to have the highest effectiveness rating for content marketing.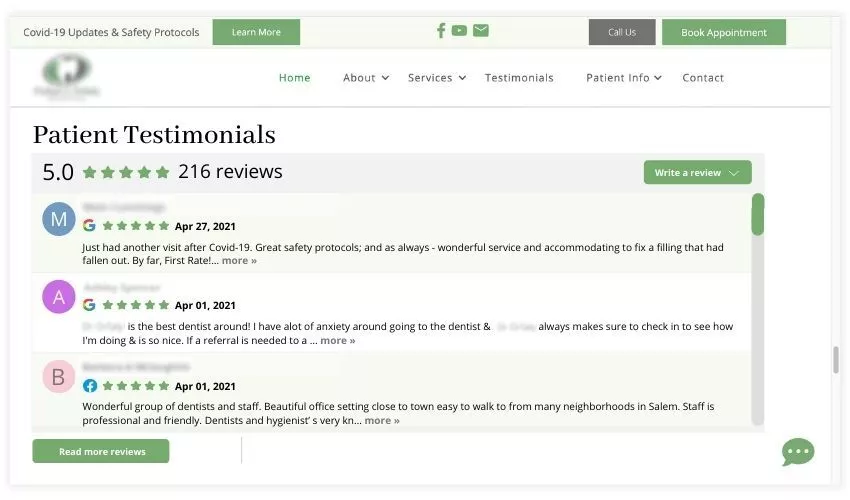 Example of Patient Reviews on a Dental Website
Testimonials serve as social proof and give patients an opportunity to compare and choose the healthcare provider that resonates the most with them. Patients want to know what other people have to say about your practice and nothing is more trustworthy and authentic to the new patient than other patient's feedback and review.
The testimonials page is a powerful tool to attract new patients and build trust with them. The reliable, persuasive patient testimonials are authentic, relatable, specific, and increase the credibility of your practice and also convince your potential patients to choose you.
Conclusion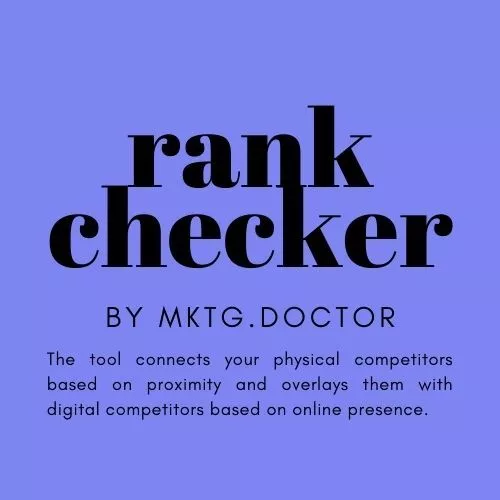 Your website is your first impression.Make it count.Your website should look good, load fast, have impactful content, and all-in-all provide the best digital experience for your patients.See How Your Practice Ranks in the Local Market
See How You Rank