Social media is big with billions of people on it everyday. I'm on it everyday and you're on it too. So are your patients. So it is that necessary evil that none of us can avoid. Let's try to understand what social media is and what it means to you.
Social media is basically branding. And I always tell this story to all my clients.
Imagine you're driving on your daily route to the office or wherever you are going and you see billboards on your way. Now do you actually stop where you're going and immediately go shop?
Billboard from Alson Jewelers. Credit: Rosenberg Advertising
This billboard from Alson Jewelers is attractive and memorable. It catches your attention every day as you travel. This means that the billboard stays in your mind and you're more likely to remember this brand the next time you want to buy jewelry.
This is the same effect you want to achieve with your social media presence. You need to become memorable and grab the attention of potential patients so that when they need a doctor or surgeon, your name and brand come to mind.
I believe social media is a necessary evil, an unavoidable compulsion, especially if you are trying to build a successful business and even medical practice. I myself check Facebook and LinkedIn every day because if I don't stay up to date with the latest trends, my business will suffer. Trust me, you cannot miss out on social media today.
You may be wondering why you should invest time in social media, and that's a great question. I will explain what social media has to offer to doctors.
For starters, social media is an excellent way to build an online presence and create a personal brand. It allows you to establish yourself as an expert in the medical field, and it can help you gain credibility and recognition.
Social media gives you a platform to showcase your medical expertise and services and connect with current and potential patients. You can use social media to engage with patients, build relationships with them, share information and health tips, and answer their questions. Additionally, social media allows you to reach an audience far beyond your geographic location. It increases the visibility of your practice and helps you gain exposure to a larger audience. This will help you reach more patients and even open the door to potential business opportunities. These are all great benefits of using social media, and I'm sure you can see why it's essential for doctors. Now let's discuss some strategies you can use to get started with social media.
The first step in getting started with social media is choosing the right platform. There are so many different social media channels out there like Facebook, Instagram, LinkedIn, YouTube, and TikTok, and it can be difficult to decide which one is the best for you. Different platforms have different audiences and offer different features, so it's important to choose the one that's right for you. That probably seems like way too many options.
The key is to focus on platforms most relevant to your audience and where you can add the most value. Keep in mind when selecting social media platforms that each platform has a different purpose. To truly make an impact with your social media posts, it's essential to craft your posts with the target audience and the purpose of each channel in mind.
For example, if you're a doctor who specializes in cosmetic surgery, then you might want to focus on Instagram and YouTube. These two platforms are great for visually showcasing your work and can help you reach a larger audience.
To be more specific, making YouTube videos is a great way to establish yourself as an expert in your field and reach out to potential patients by making educational videos. YouTube is the 3rd most popular search engine in the world, which means more people are likely to discover your videos if you post them on YouTube. Additionally, YouTube videos can be shared across multiple social media platforms, helping you to reach a larger number of potential patients. This is what makes YouTube incredibly useful for cosmetic surgeons.
Dr. Janjua is a great example of how successful YouTube can be for cosmetic surgeons; his channel has over 42.3K subscribers, and it's filled with videos that explain his services in detail.
Another good example is LinkedIn. LinkedIn is great for building your personal brand and connecting with other professionals. It is more "business" and "less social." So you should use LinkedIn to share professional achievements and network with other professionals and experts in your field. Some of you must have attended the AESURG ISAPS 2023 Conference - you can share your experiences there and connect with other doctors.
For example, Dr. Jayanthy attended AESURG and shared her experience on LinkedIn. To wrap up her post, she encouraged junior healthcare professionals interested in aesthetic medicine to join her certification program.
LinkedIn was created to connect professionals. The people on LinkedIn may be the same people on Facebook and Instagram, but they go to LinkedIn for content that is professional, educational, and relevant.
Both Facebook and Instagram are great for connecting with patients but Facebook is popular among older adults and Instagram is popular among younger audiences. For example, it's generally recommended to keep captions short on Instagram, as it is mainly a photo and video-sharing platform. On the other hand, Facebook users usually expect more text-based content and longer captions. In fact, on Facebook, you tend to see the caption first and then the image or video.
You should also try what I call content cross-pollination. This means repurposing content from one platform and sharing it across multiple platforms. For example, you could take a series of photos from an Instagram post and turn them into a LinkedIn article, or vice-versa. This is a good practice because it allows you to reach more people and engage different audiences, while also saving time and effort. Unfortunately, this isn't always successful as content that works on one platform may not necessarily work on another. For example, posting a colorful Instagram post on LinkedIn won't have the same impact as a professional, well-written article. That means no cute cat videos or dancing reels on LinkedIn.
Coming back to Dr. Janjua, he is a great example of how to do cross-pollination. He posts similar content on Instagram, YouTube, and Facebook, but the format in each is distinct and suited to each.
I have seen some marketing agencies make the mistake of posting content suited for Instagram on LinkedIn. This can be a huge turn-off for people on LinkedIn and will only hurt your reputation. If you don't want to lose the respect of your audience, make sure to create content that is tailored to each platform.
For example, this LinkedIn post uses marketing copy and asks people to book a consultation. It's a good ad. But it does not belong to LinkedIn. Instead of marketing the benefits of the treatment on LinkedIn, doctors can talk about their approach to the treatment.
This post was cross-posted on all 3 platforms Instagram, Facebook and LinkedIn. On LinkedIn, the doctor could have taken an educational approach to discuss the growing issue of female infertility. She could have highlighted her mission to "Serve women and make cheerful societies" that she's dedicated to. This would help create awareness around the topic and encourage more people to seek medical advice or support if needed.
In this LinkedIn post , Dr. Jayanthy has shared her opinion on the trajectory of healthcare and its impact on preventive and rejuvenating medicine and uses this post as an opportunity to engage with fellow plastic surgeons, to get to know their point of view.
Part 2: Creating A Professional Profile
Now that you've narrowed down your social media platforms, the next step is to create a professional profile. Make sure your social media profiles are complete, professional, and consistent with your brand. Your profile should include a relevant profile picture and header image with all essential information such as your practice name, website, contact details, and what services you offer. This will help to create a professional, consistent look and feel for your social media accounts.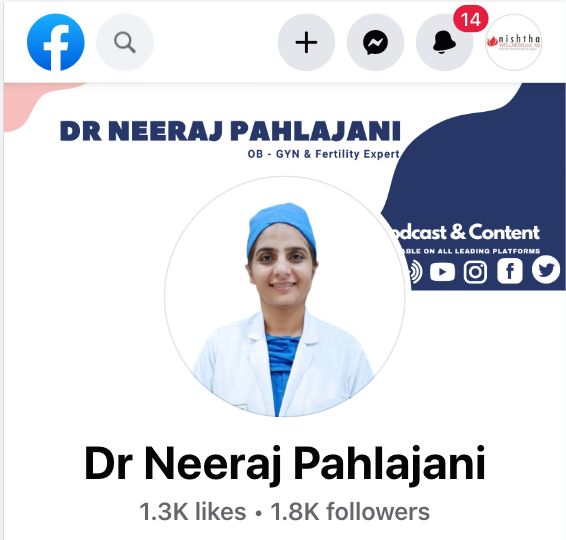 Facebook Profile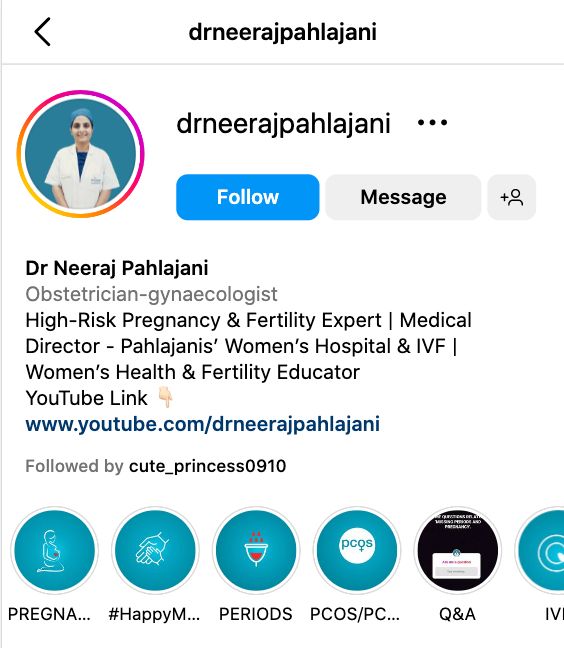 Instagram Profile

YouTube Channel Art
Take a look at the headers here. Each header has been created to suit the respective platform while maintaining consistent branding and offers all relevant information at a glance.
Facebook's new professional page experience has made it easier to manage and navigate between your personal profile and business pages. If you're still using your personal Facebook profile to promote your practice and services, you need to stop ASAP, because it won't be long before Facebook flags it as a violation. Instead, you should make sure to create a dedicated professional page that's separate from your personal profile.
There are several benefits of having a professional Facebook page over a personal one, beyond personal and professional lives separate. A professional Facebook page will allow you to create a consistent brand image and convey a professional image to potential patients. And, most importantly, a professional Facebook page provides access to analytics and insights that can help doctors track the performance of your page and adjust your strategy accordingly.
You can also leverage your personal profile for your business page. For example; if you have more followers on your personal profile, you can invite them to follow your business page to get more traction on your business page. You can also share posts from your business page to your personal profile. Just log into your personal profile, go to your business page, and share the post you want.
Still, always remember that people tend to relate more to individuals. It's easier to get a following on a person, instead of a company. When it comes to social media, no one likes a faceless brand. So, don't be afraid to show your face and share some personal information. Showing your personality and connecting with patients on a personal level will help to create an authentic connection and build trust.
Dr. Paul has an impressive following of 300K on Facebook, and he has created a meaningful connection with them by sharing a blend of patient stories and personal content that sparks interest and conversation. Just like this video of playing in the snow with his daughter.
Part 1: Defining Your Goals
Once you have set up your social media accounts and know what kind of content is needed for each platform, it's time to develop a social media strategy. This involves setting clear goals and objectives for your social media campaigns.
Without a plan and clear goals, it's unlikely that you will be able to achieve the desired outcomes with your social media campaigns. So before you start posting, take some time to think about what your goals are and what you want to achieve with your content.
Do you want to increase brand awareness? Increase website traffic? Generate new leads? Boost brand engagement? Build a community? Once you know what your primary goals are, you can start creating content to help achieve them.
Here's an example of an Instagram account with engagement goal. Dr. Anthony Youn's style is fun and entertaining. His Instagram posts are created to draw more engagement from followers, and so they are in the style of gossip and jokes. He also has entirely different posts on Facebook and YouTube. Not everyone can do all these things, he probably has a large social media marketing team assisting him.
Part 2: Identifying With Your Target Audience
Once you know what goals you wish to achieve from social media, you need to identify who your primary target audience is. Depending on the type of specialist you are, your target audience may vary greatly.
For example, if you're a pediatrician, then your target audience will likely be parents. Like this one, a simple text-based post that addresses the stress new parents go through, and connects with the audience.
If you specialize in geriatrics, then your target audience will be seniors and their families.
If you are a cosmetic surgeon, your target audience may be models and celebrities.
If you are a gynecologist, then your target audience would be young women or older women. The following post is clearly catered to an audience of younger women, answering a common question.
If you are a dermatologist, your target audience would be people of all ages interested in skin care and beauty. You can segment this audience by age groups, such as teenagers and adults, to focus on content that is more tailored to each age group.
It's important to identify who your target audience is, as this will help you create content that resonates with them and encourages engagement. You can do this by researching your audience and finding out what type of content they are interested in, as well as their likes and dislikes.
Part 3: Content Planning And Creation
Now it's time to plan and create your content. This is where the challenge comes in - how do you make sure that your content is engaging and resonates with your target audience?
As a doctor, you have the unique advantage of being in direct contact with your patients and knowing what their needs are. Use this to your benefit!
For example, if you have obtained consent from the patient, you can use before and after photos to show the impact of your treatments. You can also take complicated medical papers and simplify them for your patients - this will help educate them about the latest medical advancements in an accessible way. You can also give commentary on recent medical news in simple English - this will help your audience understand the implications of recent research.
For content planning, I would suggest using social media content buckets. These are categories of content that you can use to group your posts.
Here are some social media content buckets for doctors: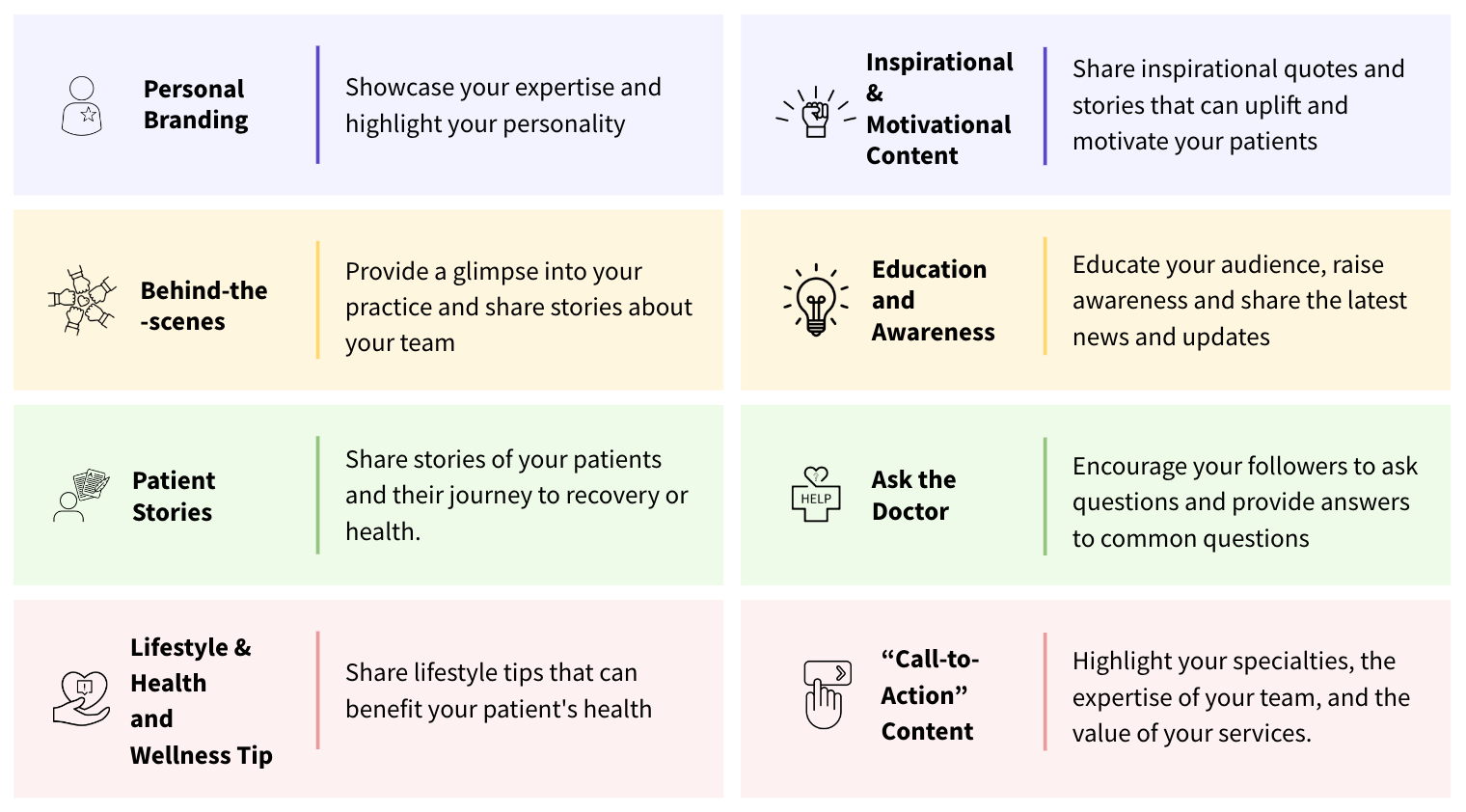 Social Media Content Buckets for Doctors
1. Personal Branding: Share content that showcases your expertise and highlights your personality. This can include sharing your thoughts on healthcare topics or sharing a personal story. Also share content about community events, charities, or causes you support. It shows that you are an active participant in your community.
For example; check out this post about the goals and aims of Dr. Rajat Sachdeva's Dental Institute! It highlights what the institute stands for and its commitment to advancing the frontiers of dental implant science.
2. Behind-the-Scenes: Provide a glimpse into your practice and share stories about your team and their daily activities.
Check out this fun reel that showcases the Cutis staff celebrating Republic Day! Your patients are important, your employees are more important to ensure your patients are happy. This is a good example of a team-building exercise and showing your patients a peek into the light-hearted environment at the practice.
3. Patient Stories: Share stories of your patients and their journey to recovery or health. You could also feature testimonials and reviews from patients.
Take a look at this amazing post featuring an elderly patient's smile makeover journey! It showcases the amazing results achieved after treatment and serves as a positive testimonial of the dental professional's skill.
4. Lifestyle & Health and Wellness Tips: Share lifestyle tips that can benefit your patient's health such as healthy recipes, fitness tips, and stress management techniques. Also share tips on how to prevent illnesses, and how to manage chronic conditions.
Check out this post about winter care for post-partum mothers - it's filled with great tips and advice that can help both expecting moms and new moms stay healthy during the colder months! It is helpful to the doctor's target audience and serves as a great example of personal branding for the doctor.
5. Inspirational and Motivational Content: Share inspirational quotes and stories that can uplift and motivate your patients.
Take a look at this simple but encouraging quote post on Instagram - it's the perfect example of a feel-good post that can motivate and uplift patients.
6. Education and Awareness: Educate your audience on different health issues and conditions. Raise awareness on important health campaigns or observances. Share the latest news and updates in the healthcare industry, including new treatments, technologies, and studies.
Check out this informative post on Facebook - it contains useful information about an important health issue and presents it in a straightforward yet engaging manner!
This fun and informative reel on Instagram combines educational content with an entertaining format, which is something this doctor does often.
7. Ask the Doctor: Encourage your followers to ask questions and provide answers to common questions you receive in your practice.
Check out this post on Instagram - it's a great way to open up a dialogue with followers and provide answers to the questions they have. It's an excellent way to foster engagement with followers and develop a trusting relationship with them.
8. "Call-To-Action" Content: Highlight your specialties, the expertise of your team, and the value of your services. Examples include special offers and informative posts about the benefits of treatments or procedures.
Check out this call-to-action post on Facebook - it showcases the services available and highlights the special discounts that viewers can take advantage of. It's an excellent way to encourage potential patients to take the first step and reach out to the doctor.
Dr. Sandra Lee - aka Dr. Pimple-Popper makes good use of all the content buckets on her Instagram. She has an impressive following of 885K on social media. She regularly provides educational content, entertaining posts, and engaging videos to her followers, making her a great role model for healthcare professionals who wish to grow their social media presence.
But creating all this content can be a challenge for doctors who are already so busy with their day-to-day work. The solution to this is to delegate. As a doctor do what you do best, and delegate everything else. I have seen some practices where they have a studio, where a professional takes before-after shots of patients day in and day out.
Still, creating content doesn't have to be difficult or time-consuming. Learn how you can easily handle content creation and design with Mktg.Doctor's Social Media Co-pilot.
Part 4: Content Distribution And Promotion
Once you have created your content, it's time to distribute and promote it. This means figuring out when, where, how, and how often to post your content.
The key here is consistency - post regularly on a set schedule so that your audience knows when to expect new content. Consistency helps to build trust and credibility with followers as they are more likely to follow and engage when they see you posting consistently. You should also mix up the types of content you post so that your followers don't get bored or overwhelmed.
To help ensure you are following a consistent posting schedule, create a content calendar that outlines what type of content and when you will post. This can help keep you focused and organized so that you don't fall behind or miss opportunities to reach your audience.
Here's an example of a social media schedule for a doctor:
Motivational Mondays: Post inspirational and motivational content
Tipsy Tuesdays: Share lifestyle and health tips
Ask-Me-Anything Wednesdays: Encourage followers to ask questions about health and wellness
Throwback Thursdays: Post stories of patient journeys or successes and you can share stories about your practice and its history
Fun-Fact Fridays: Post interesting facts about health and wellness
Shout-Out Saturdays: Post stories of your team or other practitioners in the healthcare industry
Self-Care Sundays: Post content about self-care and relaxation
By following a consistent social media schedule, you will have an easier time creating and managing content, while also keeping your followers engaged and excited. Take the time to create a schedule that works for you and your practice, and stick to it!
Part 5: Monitoring And Measuring Success
It's important to track and monitor the success of your content to make sure it is reaching its intended audience. There are plenty of tools available to help you measure your content's reach and see what types of messages are resonating with followers including free tools like Hootsuite and Sprout Social.
Many social media platforms like Facebook, Instagram, LinkedIn, and YouTube have built-in analytics that allows you to track the performance of your posts and see which ones are performing best.
Insights you need to keep an eye on:
Instagram Insights: Accounts reached, accounts engaged, follower demographic breakdown, most active times
Facebook Page Insights: Post reach, post engagement, new page likes, new followers, page interactions
YouTube Channel Analytics: Views trend, watch time, top performing videos, most active times, audience demographic, average view duration
LinkedIn Analytics: Visitors & followers demographic breakdown, leads, content analytics, follower growth trends
Once you have gathered the data, take a look at what content is doing well and what isn't. Experiment with different types of content to see which resonates the most with your followers, and make adjustments to your content strategy as needed.
By taking the time to measure and monitor your success, you will have an easier time creating content that your audience will love.
Section 4: Building and Engaging Your Audience
Part 1: Best Practices for Engaging With Patients and Followers
Engagement is essential when it comes to building an audience on social media. It's not enough to just post content - you also need to make sure that you are responding to comments, messages, and other feedback from followers. Regular engagement helps to keep followers engaged and interested in the content being shared. Responding to comments, answering questions, and engaging in conversations, helps you create meaningful relationships with your followers.
Here are a few points to keep in mind when engaging with followers:
Respond promptly to comments and messages
Pay attention to both positive and negative feedback
Provide helpful information and answers
Ask meaningful questions to encourage conversations
Show appreciation for followers who engage with your content
The biggest challenge for many doctors is finding the time to engage with their followers. It can be a lot of work, but it's worth it to build an engaged audience. A solution is to hire an agency that specializes in social media management or use automation tools to help you manage your social media channels. Automation tools can help doctors save time by automating repetitive tasks such as scheduling posts or responding to comments.
By following these best practices, you will be able to build an engaged audience of followers who are interested and invested in the content that your practice is sharing.
Part 2: Strategies for Increasing Engagement and Building a Loyal Following
Once you have built a base of followers, the next step is to increase engagement and build a loyal following. Here are some strategies for achieving this goal:
Create a sense of community: Offer exclusive content such as Q&As with team members or other practitioners, behind-the-scenes footage of your practice, or even virtual events. Developing a sense of community will help you establish relationships with followers and foster loyalty.

Offer rewards and loyalty programs: Show appreciation for those who engage with your content by offering exclusive rewards such as discounts on services or products. This is an effective way to drive engagement and build a loyal following.

Provide exclusive content: Give followers an inside look into your practice by sharing exclusive content such as photos, videos, or webinars that can only be accessed by followers. This helps you create an engaging experience and encourages loyalty among followers.

Create content that encourages conversation: Content is king when it comes to social media, so make sure that whatever content you are sharing is engaging and encourages conversation. This will help to drive engagement and build a loyal audience of followers who are invested in your practice.

Check out this clever post that encourages conversation among followers! It poses a question about Brazilian Butt Lift and prompts followers to comment "Yes" or "No", sparking meaningful discussion and helping to drive engagement.
By following these strategies, you will be able to build loyal followers who are engaged with your practice and content. This will help to increase the reach of your social media channels and make it easier for you to communicate effectively with potential patients.
Part 3: Handling Negative Feedback And Managing Your Online Reputation
Negative feedback is inevitable. It's important to be prepared to handle negative comments and manage your online reputation accordingly.
Let's take a look at Facebook as an example. A Facebook Business Page has a Reviews tab which is used to manage feedback. So what happens if you get a negative patient review?
Here are some tips for handling negative feedback:
Acknowledge the comment: This shows that you are listening and taking the feedback seriously.
Show empathy: Put yourself in their shoes and show that you understand where they are coming from.
Ask for more details: Ask questions to better understand the situation and find out what could have gone wrong.
Offer a solution: Come up with a resolution to address the issue at hand and be sure to follow up.
When it comes to managing your online reputation, it's important to remember that negative feedback is an opportunity for growth. By responding quickly and professionally, you can turn a negative interaction into a positive one. This will help to build trust and credibility in your practice.
By following these tips, you can handle negative feedback in a way that will help to strengthen your practice's online reputation. This is an important part of building an engaged audience and fostering loyalty among your followers.
Now that you understand the basics of social media marketing, it's time to look at how to use social media advertising to reach your goals. Everything we have discussed so far is about posting content organically, but advertising on social media is a bit different.
Social media advertising is when you pay to run an advertisement on a platform. There are two main ways to do this:
Boosting existing posts: This means taking a post that is already doing well and paying to promote it. This is a great way to reach a wider audience and get more engagement on your content.
Creating ads with a clear call-to-action (CTA): This means creating an ad from scratch to get people to take a specific action, such as claiming an offer or booking an appointment.
Take a look at this creative ad that promotes dental implants! It features an eye-catching image and offers an attractive incentive.
When creating organic posts, you want to be non-salesy and focus on building relationships. With ads, however, it's okay to be more direct and even use sales tactics. Ads will also be marked as "sponsored" so that people know they are seeing an advertisement and not just regular content. This is very important because when people know they are looking at ads they are more inclined to take action.
Let's discuss how to use social media advertising to take your practice to the next level.
Part 2: Targeting Your Ads to the Right Audience
Targeting your ads to the right audience is one of the most important parts of running a successful social media ad campaign. If you target everyone, you're essentially targeting no one. To get the most out of your ads, it's important to create personas for those you want to target.
For example, if you are running ads for a facelift procedure, you may want to target older women who are looking to look younger. Then you should look deeper into the persona. Which social media platform would this persona frequent? Why would they want a facelift?
We use the 5WH Framework to help our clients create personas for their target audience. This helps us to understand their needs and how best to craft messages that will resonate.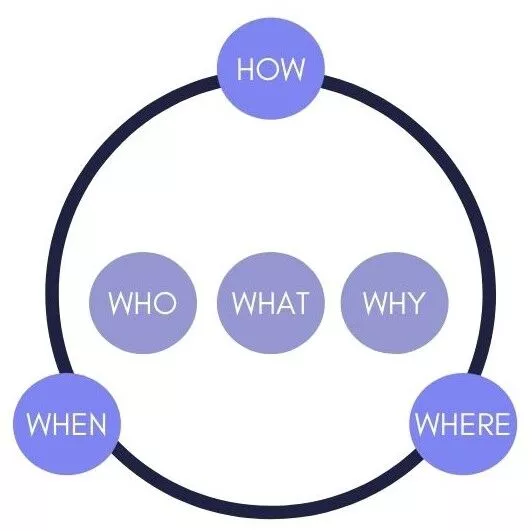 The 5WH Framework
The framework asks the following questions:
Who are your target patients?
What products and services are you providing?
Why are you providing these services?
When should you market your products or services?
Where should you market your products or services?
How should you market your products or services?
Once you have the answers to these questions, you can begin to craft targeted messaging and create ads that will be more likely to convert. Your message will be different for each persona, so it's important to understand the needs of each one.
Part 3: Measuring the Effectiveness of your Advertising Campaigns
The last step to a successful social media advertising campaign is measuring the effectiveness of your ads. This is done by tracking metrics such as impressions, clicks, and conversions. This data can help you understand how well your ads are performing and what adjustments need to be made to optimize them for better results.
It's also important to track the ROI (return on investment) of your ads. This will help you understand whether you are making back more than you are spending on each ad and if not, what changes need to be made.
Section 6: Staying Compliant with Regulations
It is important to be aware of all the regulations and guidelines when advertising medical services on social media in India. For example; according to the National Medical Commission in India, a doctor is not allowed to make any form of promises or advertisements of 'guaranteed treatment.'
Any advertisement or social media post related to medical services should also include complete and accurate information about the doctor's qualifications, experience, and educational background. It is also important to avoid making any claims about treatments or drugs that are not scientifically proven.
NMC & HIPAA Compliance And Patient Privacy Considerations
On 25 September 2020, the Medical Council of India (MCI), which had been operating as a statutory body striving to achieve uniform and high standards in medical education throughout India, was dissolved and replaced by the National Medical Commission. The primary reason for this change was to address long-standing issues with the MCI, which had faced allegations of corruption, poor management, and a lack of transparency.
The NMC has put forth several guidelines for the conduct of doctors on social media. These guidelines may seem stringent but as long as you follow the key principles, you should have no difficulty remaining compliant.
The key principles of NMC social media guidelines are:
The use of social media should be guided by the broader principle of medical ethics
Doctors should distinguish between telemedicine and social media
All communication should be truthful, respectful, and professional
In the US, Health Insurance Portability and Accountability Act (HIPAA) sets safe guidelines for using this kind of data in different contexts, including marketing. These can be summarized as:
Make sure to get rid of any unique identifiers and data that would allow patients to be identified.
Follow the privacy guidelines of the selected ad platform.
It is important to ensure that patient privacy and confidentiality are maintained at all times. All images or videos featuring patients should be carefully edited to ensure that any sensitive information is not compromised. Of course, you all already know how troublesome it can be to mask faces in photos or videos for patient privacy. You need to learn how to use programs like Adobe Photoshop to blur out faces.
Doctors must be aware of the potential for online harassment or negative comments from patients or other users. All patient stories should maintain the patient's anonymity and only use information that has been approved by the patient beforehand.
Finally, doctors must also be mindful of their personal brand and how they present themselves online. By understanding the challenges associated with using social media, doctors can use it to their advantage and build a successful professional brand.
Part 2: Avoiding Ethical Pitfalls and Maintaining Professionalism
Doctors must be aware of the potential ethical pitfalls when using social media. As a doctor, it is important to maintain professionalism in all online communications and refrain from making any comments or posts that could be interpreted as unprofessional, biased, or offensive. In addition to avoiding ethical pitfalls, doctors should be aware of their online presence and how it reflects upon the practice. Utilizing social media channels to promote your medical services is a great way to reach potential patients and build brand awareness; however, it is important to use these channels judiciously and with caution.
Section 7: Conclusion
Part 1: Recap of Key Takeaways
Doctors must take advantage of the opportunities that social media has to offer to stay competitive and differentiate their medical practice. By carefully choosing the right social media platforms, creating a professional profile, and developing a sound strategy, doctors can effectively use social media to reach new patients, build brand awareness and engagement, and monitor their online reputation. Finally, by staying compliant with regulations and avoiding ethical pitfalls, doctors can use social media successfully to help grow their practice.
Part 2: Action Steps for Doctors
Set goals for your social media strategy and create an effective plan to achieve these goals.
Establish a presence on the right social media platforms and cultivate relationships with followers.
Monitor metrics to measure success and adapt the social media plan according to performance data.
Implement marketing automation tools and software to streamline processes, personalize patient communications, and increase engagement.
Stay compliant with all applicable regulations and ethical standards.
The future of social media marketing for healthcare professionals is to focus on building relationships and trust with patients through personalized content, engaging visuals, and interactive engagement opportunities. To create an effective presence on social media, you must be proactive and engage with followers while consistently sharing fresh, quality content.
We have all noticed how popular reels and shorts are getting on Facebook, Instagram, and YouTube. Video content will soon become the go-to medium for doctors as it allows them to connect with their audience more directly and disseminate complex information in an easily digestible format. Furthermore, doctors must be prepared to navigate through the new privacy regulations and social media policies as they emerge.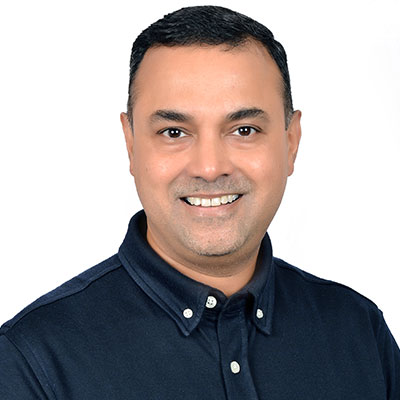 About Author
Harshal Limaye
CEO & Founder, Mktg.Doctor
LinkedIn – @ Harshal Limaye
Harshal Limaye runs Mktg.Doctor, an all-in-one digital marketing platform that leverages 360° marketing strategies to acquire new patients, re-engage existing patients, improve patient's experience, streamline your front desk, and justify your marketing spend. He is a Certified Aesthetic Consultant from The Aesthetic Academy USA.