Having a strong online presence is important for many businesses, including medical practices. It allows potential patients to find information about your practice, contact you with questions, and even book appointments online.
Along with an online presence, you need to build a personal brand. Comfort level is one of the most important criteria that patients look for when searching for doctors, along with their experience, skills, quality of care, infrastructure, and facilities. If you want to establish credibility and build trust with your patients, building a personal brand is a great way to do that.
The first step you should take when establishing an online presence and building a personal brand is to set up a website and social media accounts for your practice.
However, another potential channel that doctors may consider is discussion forums. In this blog, we will be discussing the following topics:
What are discussion forums?
Why should you include discussion forums in your marketing strategy?
How to get started on a discussion forum?
Discussion forums for medical professionals:
Tips on how to make the most out of your discussion forum
What are discussion forums?
Discussion forums are online communities that provide an opportunity for people to ask questions, receive answers and advice, and engage with others who share similar interests. A person starts a topic in one of the categories, and other enthusiasts respond to that topic and continue the conversation.
Discussion forums can be used as a marketing tool and much more for doctors. Discussion forums provide a platform for doctors to engage with potential patients, answer questions, provide advice on medical topics, and even build relationships. Let's take a look at some of the reasons why you should be using discussion forums to market your medical practice.
Why should you include discussion forums in your marketing strategy?
Discussion forums are more than just places to post content. Ongoing discussions can be the best fuel for marketing your medical expertise and the services you offer. As a doctor, you can find people who are interested in your services and engage with them through discussion forums. Here are a few benefits of using discussion forums for marketing your medical practice:
Access to a wider audience
Search engines use discussion forums to direct visitors to a website. How? People often search the web for fitness tips, health-related issues (be they major or minor), and the best possible treatment at home or in the hospital. Search results often include pages from discussion forums, as content that is being discussed by multiple people is often seen as more helpful and trustworthy.
That is why, you should share your expert opinion on medical issues, treatment plans, and medical advancements on discussion forums. When people search for any topic on the internet, the search engines will show your content if they find your writeup or answers are the best fit for those query-driven searches and if your content has received many upvotes.
Thus, posting on a discussion forum or replying to some other posters' posts not only helps you target that community but also a wider audience beyond the members of that community present on the forums.
Increased engagement with potential patients
Marketing is an ongoing process where you have to explore multiple channels. Discussion forums are a place where you have to put in a little effort to reap the benefits like increased reach, network building, and engagement with the audience.
Ongoing discussion is the best thing about a discussion forum that will work in your favor. All you need to do is answer all of the questions related to your field and the services you offer. This will help build trust among potential patients and it will also improve your online presence as search engines like Google consider more active members in the discussion forums (that get a lot of upvotes and good engagement) to be trustworthy and informative.
Ability to target specific groups
Discussion forums are great for targeting specific groups of potential patients. This is because you can find people who are looking for experts in your field of practice. Suppose one person has posted a question on a medical issue or raised queries about the latest medical advancement. You can showcase your expertise by replying to them. This can help you get the right kind of people to take a look at your services and potentially become future patients.
In addition to replying to the relevant questions, you can post your in-depth understanding of a subject or share your published medical articles on those forums. It will help you build a positive image in the community, encourage potential patients to trust your expertise, and ensure the best possible conversions.
You can also target geographically-specific groups. For instance, if you have a practice in the United States and your target market is within the city limits, you can join a discussion forum that caters to people in the same city. This way, you can engage with potential patients who live close to your clinic.
How to get started on a discussion forum as a doctor?
Here are practical steps to get started on any discussion forum:
Choose a forum suitable for your marketing goals. Keep reading to learn about the most useful discussion forums for doctors.
Be clear about the rules of the selected forums.
Create an account and sign in to leave a comment, reply, or make a post. It would be great if you promote your service and offerings via a reply or forum post.
Start regularly engaging with users.
Best discussion forums for doctors
Quora
Broadly speaking, Quora is not intended to be a discussion forum unless people add comments to your posted answers. It might be more accurate to call it a platform for asking and answering questions.
On Quora, people seek answers to specific questions, and other people post their answers. The site considers the answers from each person as individual posts beneath the specific questions. However, there will be "upvote or downvote" and "add comment" options to every posted answer, leveraging discussion and engagement into your content.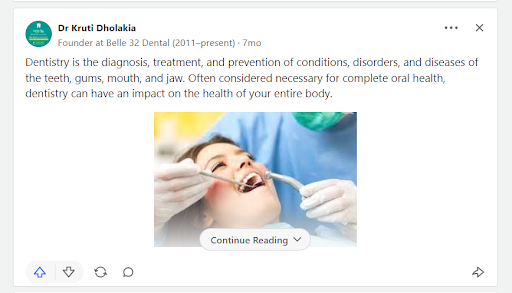 Quora
Quora can be a useful platform for doctors to answer medical-related queries from people who are looking for advice. It is also a great platform for you to show off your expertise and build trust with potential patients.
Reddit
Reddit is a game-changer in community-building platforms, leveraging millions of users and thousands of "subreddits." Subreddits are like discussion forums where people discuss all sorts of topics, including medical topics.
Participating in Reddit conversations is beneficial for doctors in multiple ways. First, you can build your authority and demonstrate expertise by answering medical-related questions. Second, you can build relationships with potential patients by engaging in conversations and responding to their questions.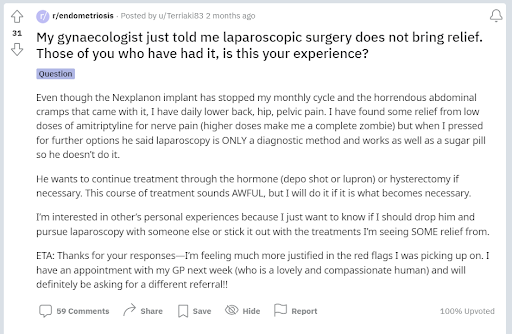 Reddit
You may find Reddit tricky to use in the initial days, but once you start your Reddit journey, it will ensure engagement with users and the best possible conversions.
RealSelf
RealSelf is a healthcare marketplace that brings consumers and physicians together – giving them an opportunity to make informed decisions about aesthetic treatments. From plastic surgery, dermatology, and minimally-invasive therapies; the website has more than 20,000 registered doctors & practices! So many people from the web come to RealSelf to find and choose doctors after checking reviews.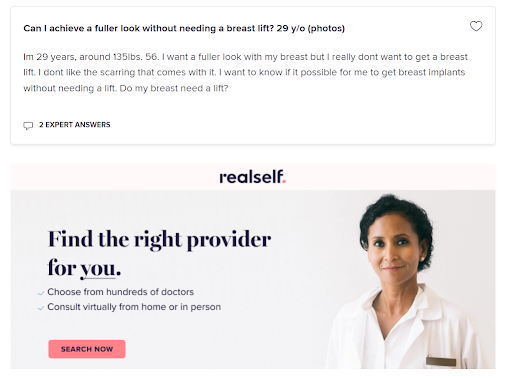 RealSelf
By joining RealSelf, doctors can build relationships with people seeking advice and get more referrals. It is also a great way to introduce your practice to the public and gain more visibility online.
Tips on how to reap more benefits out of a discussion forum
Select the best discussion forum for you
All your community-building efforts will go in vain if the audiences are not aligned. So, choose a forum by analyzing the behavioral tendencies of the audience. For instance, if you're targeting youth, Reddit will be a good platform to post on any topic.
If you want to build a strong network with other healthcare professionals and connect with potential patients, RealSelf should be your primary choice. Similarly, if you want to target specific audiences, replying to the questions on Quora would be a great choice for promoting your services.
Make sure to match your content to the chosen forum
Promoted content or ads help you get more reach and conversion, but they should be well-written and should match the forum's pattern.
For instance, if you are using Quora to post about your medical practice, ensure that it is within the guidelines of the platform and answers questions related to medicine. Similarly, if you are posting on Reddit, make sure that your content is in line with the subreddit's requirements. Since the medical field is full of critical medical terms, you must ensure every claim and statement written in the content is 100% true before posting it anywhere.
You also need to follow the E-A-T principle for your content. E-A-T stands for Expertise, Authoritativeness, and Trustworthiness. The E-A-T Principle helps you focus on creating credible content that's either written or reviewed by experts which automatically makes your content trustworthy. Check out our blog on the E-A-T principle to learn about this in detail!
Target specific groups and write content accordingly.
Make sure to reply politely, and follow all forum rules.
Encourage active participation. For instance, you can use calls to action in your current posts to ensure full participation in the next ones.
Don't over-thread (posting too many threads in a short time).
Now you know how to leverage discussion forums to start building a strong online presence and develop relationships with potential patients. However, these are the basics. Every forum differs from the others in terms of audience interest, patterns of content, and success formula.
So, it doesn't end here. You will have to experiment with every possible way of marketing through discussion forums.
Now go ahead and start building your online presence on discussion forums. Remember to follow the tips mentioned above, use the E-A-T principle, and build your personal brand, and you will soon be having meaningful conversations with potential patients. Good luck!
Don't forget to check out our blogs on the E-A-T principle and building your personal brand!