When writing medical content for your web page, it is recommended you follow the E-A-T Principle. In this post, we'll discuss Google's E-A-T Principle in detail.
Watch the video: What is Google E-A-T? Why Doctors Should Care
What is the E-A-T Principle for SEO?
In 2018, Google introduced a new algorithm for healthcare websites. Search Quality Evaluator Guidelines were added to suggest the parameters of good quality content. A category called 'YMYL(Your Money Your Life)' was introduced in these Search Quality Evaluator Guidelines. The healthcare domain, legal, and finance domains have been categorized under the YMYL category because they are considered to be affecting the reader's health, happiness, and money.
The E-A-T Principle was introduced under the YMYL category. E-A-T stands for Expertise, Authoritativeness, and Trustworthiness. E-A-T is one factor in determining Page Quality.
Expertise: The formal expertise i.e. the qualifications and education of the content creator of the website.
Authoritativeness: The reputation of the content creator in the industry
Trustworthiness: The legitimacy and accuracy of the website and its content.
Incorporating E-A-T while creating content In a nutshell, E-A-T Principle allows you to create content that Google wants and your patients crave because it can be applied on both the page-level as well the site-level which qualifies your webpages as YMYL pages and helps every part of your website to meet Google's requirements.
The E-A-T Principle helps you focus on creating credible content that's either written or reviewed by experts which automatically makes your website a trustworthy one. So, having a website with quality and credible content that provides authentic information to patients will result in increased engagement with them as well as higher rankings for target search terms.
It is really easy to boost organic search traffic by following the E-A-T Principle. Now let's take a look at how to actually incorporate E-A-T Principle into the content.
As per E-A-T Principle:
Creating trust between you and your patients is the primary goal of any healthcare provider. So, your website should have your bio with all your credentials and your experience as proof of your expertise to let patients know that the content is credible and is provided by an expert.
You need to create credible and accurate content.
There are always new discoveries and advances, so updating your content as per the latest information is a must.
Always take references from authoritative websites and provide links or state your sources to increase credibility.
Effective content creation using the E-A-T Principle
Let us see how you can incorporate E-A-T into each of the formats of content: questions and answers, pictures, videos, and patient testimonials on your website.
Questions and Answers Content
Traditionally, doctors and patients have been communicating in the form of questions and answers. Study the demographic of your existing patients and potential patients – the average personality, location of residence, age, gender, and so on. This will help you identify what kind of questions your patients may ask you thereby helping you write persona-driven content.
For example, a person considering breast augmentation surgery may have the following questions in mind:
What is breast augmentation surgery?
Am I the right candidate for breast augmentation surgery?
What are the different types of breast augmentation surgery?
How much do breast implants cost?
What is the procedure?
What is the recovery process?
What are the risks associated with the surgery?
Incorporating such questions (and answers) on your website helps in showcasing your expertise and authoritativeness, and your content will be considered authentic.
Visual Content
Visual data is a fail-proof way of marketing and works amazingly when you're trying to increase traffic on the website, increase your engagement, and earn new patients. This is because it is easier for your potential patients to process information easily through visual data and see your skills in your results directly.
Along with your experience, reputation, quality of service, and other such factors, your skill is one of the most important factors while marketing or building a personal brand that will help patients to choose you.
Before-after photos of your patients are a powerful tool to let potential patients see your skill, expertise, and experience in the most authentic and credible form – the result of the treatment/surgery.
Before-after photos provide proof of the quality of your service to your potential patients and convey the reassurance that words cannot.
Video Content
It is a proven fact that a website containing videos can keep your viewers on your website for long. This is because it is easier to explain using videos.
Let's take a look at some video ideas:
Doctors can promote themselves using various videos. A video taking the audience on a clinic tour – helps new patients to get to know you better, thus adding brownies to your trustworthiness. Educational videos can be another good option to show or tell potential patients what they will go through in a particular surgery. In fact, you may consider having a separate page of such videos on your website. (Expertise & Authoritativeness) Animated videos of the surgery or a procedure to give insights about the treatment. Leverage social media platforms such as Facebook or Instagram for live sessions. (Authoritativeness)
Patient Testimonials
Patient testimonials or patient stories are believed to have the highest effectiveness rating for content marketing.
As a healthcare provider, you can talk about your expertise and qualifications, the latest equipment you use, how modern your facilities are, and how overall effective the services you are providing.
But nothing is more trustworthy and authentic to the new patient than other patients' feedback and review of the healthcare provider, clinic or hospital staff, and the services offered by them. Patient stories or patient testimonials are one of the most powerful tools to earn new patients and their trust.
The reliable and persuasive patient testimonials are authentic, relatable, specific, and can be used on the website, Google, social media platforms, email marketing, or on any platform where potential patients are present – to increase the credibility of your practice and convince your potential patients to choose you.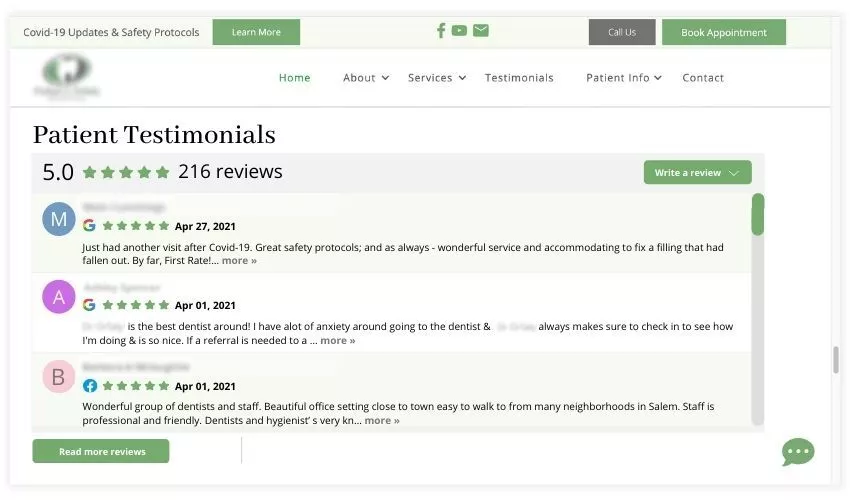 Widget-to-showcase-reviews-on-the-website
Creating and marketing content based on the E-A-T Principle and its guidelines will help you create a trustworthy website and high-quality web pages with credible content. This will not only help you to increase brand awareness but also educate your patients and build trust with them.