Watch the video: 3 SEO Tips for doctors
You may have an amazing website… it looks beautiful, it has all the information. But is it ranking on Google? Do you know how you compare to your competitors today?
In this post, I'll share the top 3 SEO tips to improve your Practice website ranking. And I'll also tell you about a tool that gives your local Google ranking, top pages of your website, competitor rankings, and more.
What do you need to know about SEO?
SEO i.e. Search Engine Optimization is the art and science of ranking your medical practice, services, or products on Google or any other search engine for free. And it is not about ranking on any other page but the first page of the search results on Google.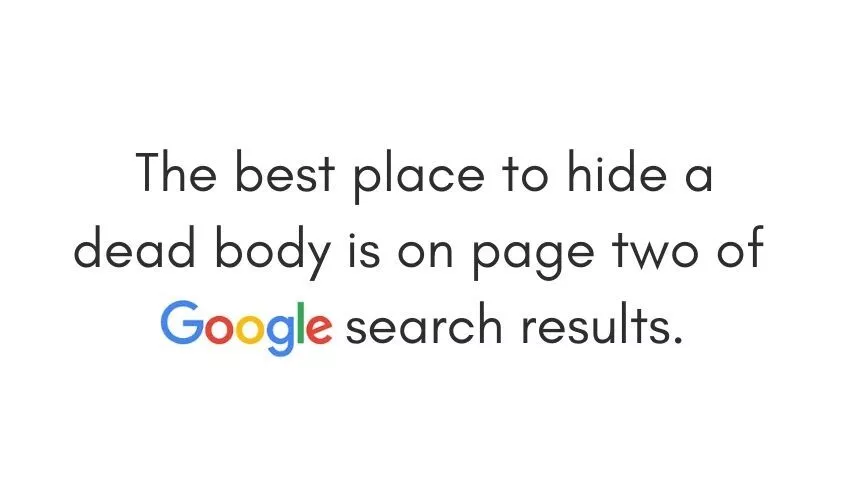 There's a joke that the best place to hide a dead body is page 2 of Google search results.
This is because most people don't click beyond the first page of search results. So if you want your patients to find you easily then you will never want to come on Google's 2nd or 3rd page.
Need of SEO
If you look into the patient journey, you already know that it all begins by searching on the Internet – either on smartphones or desktops.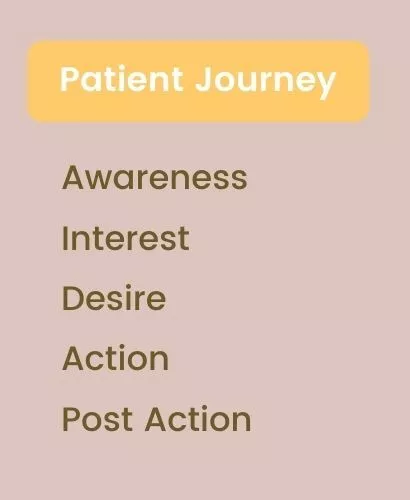 The Patient Journey
The Patient Journey
Your patients are searching for terms such as "dentist near me", "how much do braces cost", or "how to get rid of acne", and so on. That's why it is important to have visibility at the top of search results.
When you rank on top for the keywords or terms your prospective patients are searching for, the number of visitors to your website will increase and this will eventually result in more inquiries and appointments for the services you provide.
Your job doesn't end just by having a website. SEO is an ongoing process. And with every new medical practice evolving, your competition will grow. That's why you need to constantly check on your SEO performance against your competitors and take actionable steps to retain your top position on the search results.
You can use our free Rank Checker tool to see how your practice ranks in the local market. The tool connects your physical competitors based on proximity and overlays them with digital competitors based on online presence.
Top 3 SEO Tips
Now that you know what SEO is and why your practice website needs it, let's dive into the top 3 tips to get your SEO game strong!
SEO Tip #1: Focus on Local SEO
If your competitors are ranking on top for local search results and you are not, then it's time that you check and optimize various location-based factors of SEO like Keywords, Citations, and your Google My Business Listing. Let's see these factors a little in-depth.
1. Keywords
Keywords are patient's search queries on Google or any other search engine. You should know what local people are searching for. Once you've identified the relevant and target keywords for your practice or service, use them in your Website Content, Page Titles, and Meta Description.
For example, you are a plastic surgeon and have a clinic in Pune. During the keyword research, you found out that most people are searching for the cost of nose surgery. Then, in this case, based on your target keywords, the high search volume of the query, and location, the title for your Rhinoplasty webpage can be "Nose surgery cost in Pune".
2. Citations
Citations are nothing but mentions of your practice's name, address, and phone number (commonly referred to as NAP) on a website that is not owned by you.
Citations are important for both Google's "local pack" results and regular organic search results. Google's local algorithm studies your NAP information as a sign of relevancy and proof that you're a verifiable local practice and actually located at the address listed in your Google My Business profile.
Apart from Google, people also search for doctors through Facebook or directories.
So what do you need to do for citations?
You need to ensure that you have accurate and consistent NAP information listed on all these sites. Let's say you have a new location, so make sure that it is getting reflected on Your Google My Business, Facebook, and other directories.
3. Google My Business Listings
Optimizing your Google My Business Listing will help you to maximize how often people find your practice in local search results. Medical Practices with complete and accurate information are easier to match with the right searches.
That's why you should always provide full and accurate information like Physical Address, Phone number, Category, and Attributes.
Also, verify your practice locations so they're more likely to show in local search results across Google Maps and Google Search.
Show your practice hours accurately
Acknowledge reviews. It's always a good practice to acknowledge them. Even if you've received a bad review, do not drop it. Inspect and reply to them appropriately.
Showcase your service or practice by putting appealing photos
Also, add relevant posts. It can be a post on offer going on treatment.
SEO Tip #2 Create Unique Content
Your website's SEO performance can be increased by creating unique content – content that matches with Google search queries. Whether it's on a specific web page, a press release, or a blog post.
For example, if you find out in your keyword research that people are searching for Insurance and Payment Plans for a particular treatment, then providing this information on your treatment page will certainly help get more traffic to it.
Another great tip for creating SEO-friendly content is to Revamp your old blogs or web pages based on your current keyword research and Google queries.
Also, do not limit yourself to just your website's content. Create unique content that people want to consume, and share that on Instagram, Facebook, LinkedIn, and other social media networks. This will ultimately drive more traffic to your website.
SEO Tip #3 Give Importance To Patient Experience
Your website is the most important marketing asset and plays a major role in the overall patient experience.
User experience has always been favored by Google and with its latest update, you can measure how patients interact with your website. Leverage this data to make the Patient Experience even better!
But what is this new update?
Google has rolled out Core Web Vitals that consist of
Loading,
Interactivity, &
Visual stability
The Web Vitals will focus on the user experience once a user clicks on a web page, including whether a page loads fast or is stable. So these are important to look into if you want to improve your Website Rank.
So to summarize,
Focus on Local SEO
Create Unique Content
Give Importance To Patient Experience
Stay up-to-date with changes in the Google algorithm, and keep updating your website. SEO is a long-term commitment, and if done right, the ROI you'll receive over time will be worth the effort!
Need help with SEO?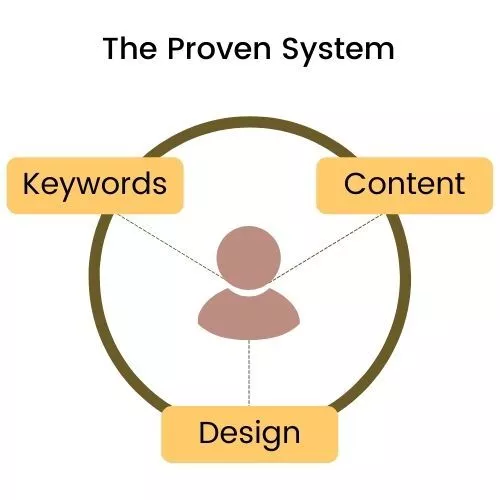 We ranked a dental practice on Google (in just 3 months) using our proven system. If you'd like to turn around your practice and rank it on the top search results on Google, get in touch.
Read about the proven system
Book A Call