Do you have a strategy for Video Marketing?
Video is everywhere now, and it's not just for entertainment anymore! Videos are also becoming a popular tool for medical practices, both big and small, to showcase their services and reach larger audiences. More and more doctors are using video to engage with their patients, and there's a good reason for that.
Why your medical practice needs to start video marketing on Instagram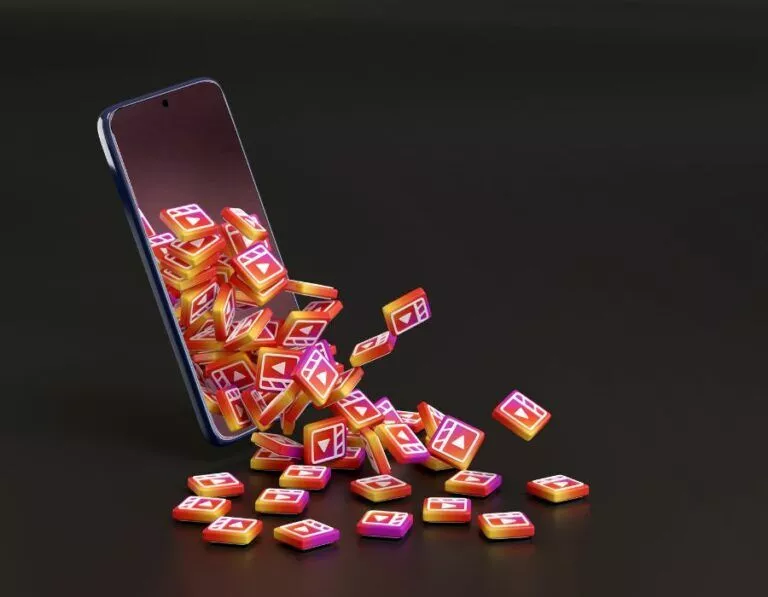 In this blog series, we'll break down why Instagram is such a great place for video marketing, how you can make the most of your Instagram Video strategy, and the types of Instagram videos you can use to show off your practice.
Originally launched in 2010 as a photo-sharing app, Instagram has since evolved into one of the most popular social media platforms with over a billion monthly active users.
Instagram is a hugely powerful tool for social media marketing for doctors. Thanks to its visually-rich format and large user base, Instagram provides a unique opportunity to reach out to potential patients and build relationships. As we mentioned above, Instagram has over one billion monthly active users. If you're not using Instagram, you're missing out on a huge opportunity to reach new people. You can post content curated for the patients you want to attract by giving sneak peeks into new treatments and services, highlighting before/after transformations, and much more.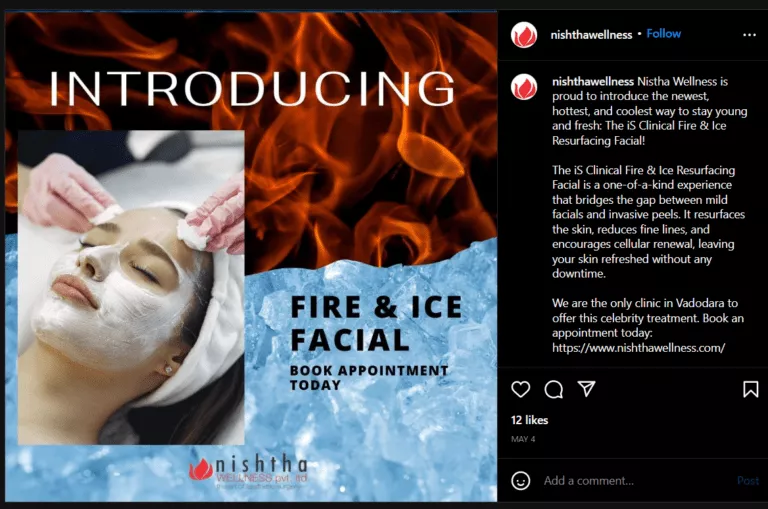 Instagram can also be used to combat misinformation about health and medicine. By sharing accurate and up-to-date information on conditions, treatments, and preventive care, doctors can help to promote healthier lifestyles and dispel dangerous myths. In a world where information is increasingly available at our fingertips, using Instagram as a tool for medical education is a smart and effective way to reach a wide audience.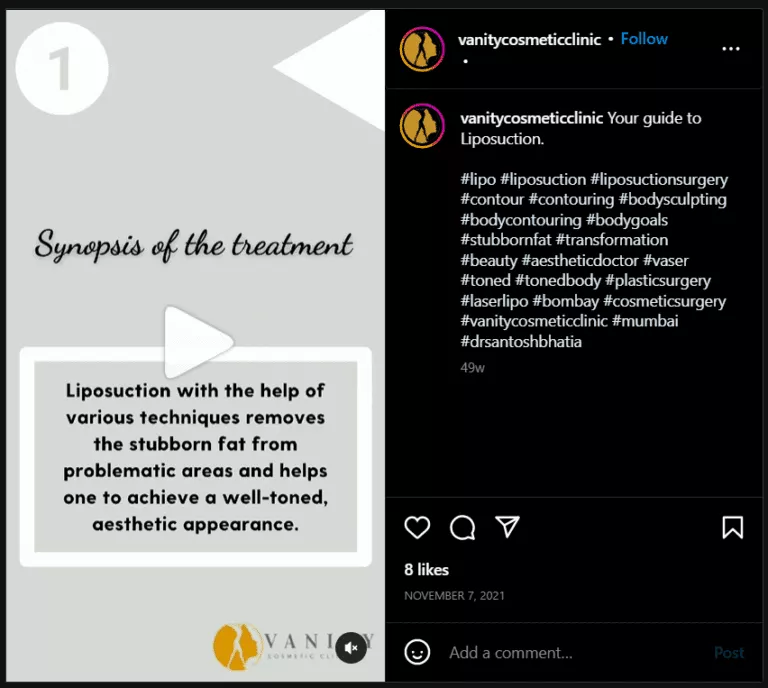 Vanity Cosmetic Clinic Reel
For more tips on using Instagram as a medical professional, check out our blogs:
IGTV To Instagram Video
Instagram recently announced a major change to its video platform, IGTV. IGTV was originally launched in 2018 as a standalone app for long-form video content. However, the app never gained traction and was largely overshadowed by TikTok. In an effort to revitalize IGTV, Instagram has now rebranded it as a section within the main Instagram app. IGTV has now become Instagram Video! It has consolidated all Instagram video content into a single format (except for Instagram Reels).
This rebranding is a huge boon for everyone who wishes to use Instagram for marketing purposes. Now that all Instagram video content is housed in one place, it's easier than ever to find and consume. In the rebranding, the length of the videos was increased from 60 seconds to 60 minutes (only Reels have a limit of 90 seconds). All videos are now conveniently located on users' profiles and come with editing features such as trimming, filters, and location tagging. It is easier to keep track of how the videos are performing by checking a single combined metric that encompasses both feed posts and video insights. Thanks to these new features and longer video duration, you can use Instagram Video marketing to tell richer and more compelling stories.
Why is Instagram Video marketing so effective?
Videos tell compelling stories:
If a picture is worth 1000 words, a video is worth much more. Instagram Video marketing is an essential tool for any doctor looking to reach a wide audience and build their medical practice. Videos are a great format to showcase patient testimonials and the results of a treatment, especially if you're a cosmetic surgeon or cosmetic dentist! The Instagram feed is the perfect place to also showcase your personal brand through video marketing. You can use video content to tell your brand's story, introduce your team, and show off your unique personality.
Videos create the most viewer engagement:
Not only is video a great way to reach new people, but it's also extremely effective at driving engagement from your existing followers. Posts with video receive more engagement than those without. Video posts get 38% more engagement than photo posts. That's because videos are more engaging than other types of content – they're visually interesting and easy to consume. And with the recent launch of Reels (Instagram's answer to TikTok), there's never been a better time to get started with video marketing on Instagram. In fact, Instagram Reels have become so popular that now even Facebook has Reels!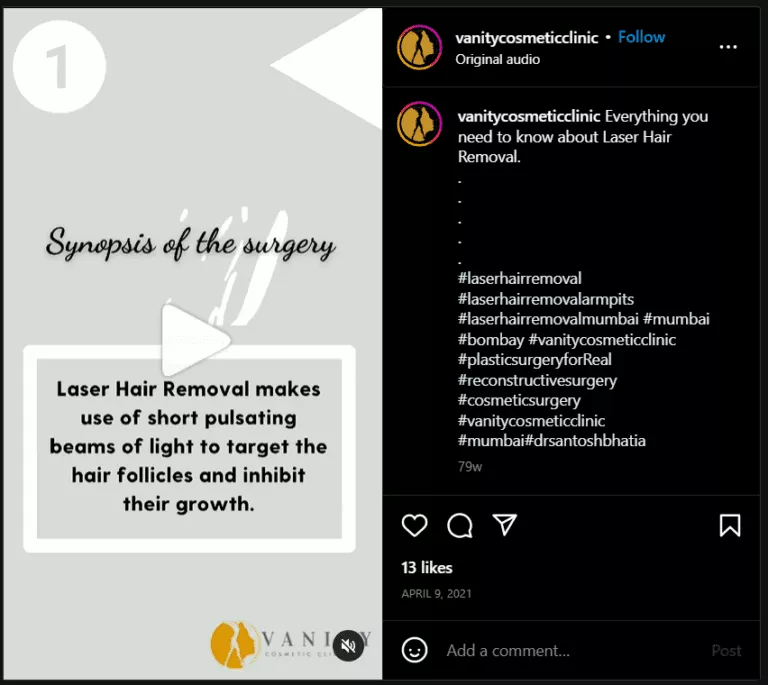 Vanity Cosmetic Clinic Laser Hair Removal Reel
Instagram's video formats can be used by any medical practice:
Whether you're a solo practitioner or a large medical group, there's an Instagram video format that's right for you. For example, if you want to give your followers a behind-the-scenes look at your office or show off a new piece of equipment, you can do so with a short video posted to your feed. On the other hand, if you want to produce an educational series about a particular topic or condition, Instagram Video is perfect for that.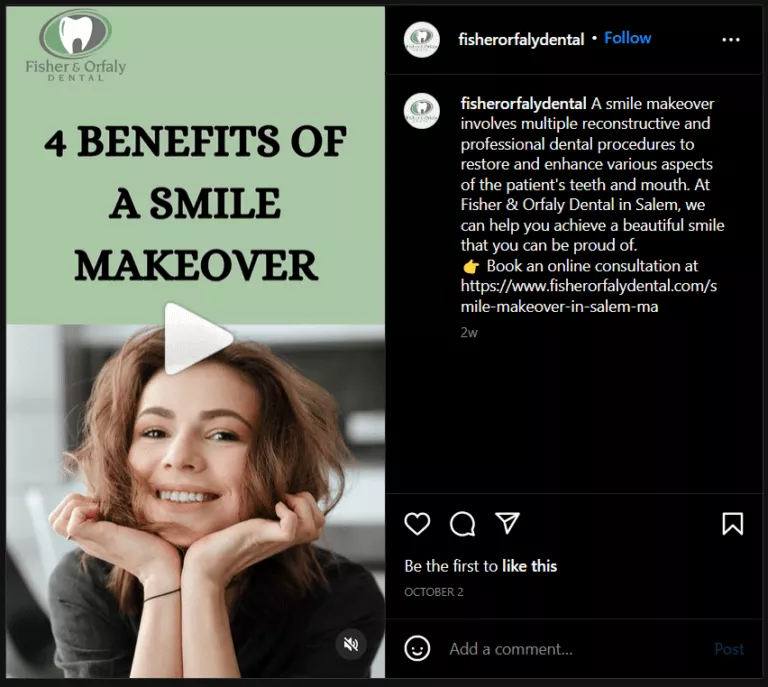 Fisher and Orfaly Smile Makeover Reel
Instagram Video allows you to be more creative:
Instagram provides an engaging and visually-rich platform for medical practices to reach out to potential patients. With a little creativity, you can use Instagram video marketing to build brand awareness, drive traffic to your website, and even get new patients.
Because there are so many different ways to use video on Instagram (feed posts, Stories, Reels, etc.), you have a lot of freedom when it comes to creative expression. Whether you decide to go with a polished and professional look or something more raw and authentic will depend on your brand identity and what resonates with your target audience.
Instagram Video is affordable for everyone:
One of the great things about using Instagram Video is that it's accessible regardless of your budget. You don't need expensive equipment or a team of professionals to produce high-quality videos—all you need is a smartphone and some creativity. Of course, if you do have the budget for professional help, that will improve the quality of your videos. But even if you don't, you can still produce great content that will resonate with your followers.
There's no question that video is now one of the most effective ways to market your practice online – and with good reason! Videos are highly engaging, easy to consume, and accessible regardless of your budget. There are many reasons why doctors should consider using Instagram Video as a part of their marketing strategy. From its engagement-driving potential to its creative freedom and accessibility, there are numerous advantages to using this powerful tool. So if you're looking for ways to take your marketing efforts to the next level, consider incorporating Instagram Video into your strategy. You won't be disappointed!